Discover Heraklion, Crete
The Name "Heraklion" was first used during the 1821 revolution. Its existence as a place name had of course been known since antiquity, and was chosen by the revolutionaries to boost national consciousness and link the revolutionary present to the glorious past. Over the following decades the name was used with increasing frequency by Greek intellectuals, merchants and several locals, until it acquired the official sanction of the Ottoman authorities in the Organic Act of 1869.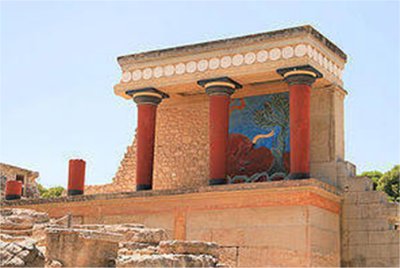 In parallel with the new name, ordinary folk did of course continue to use earlier names for the town: Megalo Kastro, Kastro and Chora (the last being a generic term used for Greek island capitals).
Heraklion has been inhabited since antiquity and it is the richest part of the island in terms of archaeological sites with: Knossos, Phaestos, Mallia and their exhibits can be viewed in the Archaeological Museum of Heraklion.
The rule of the Venetians and Turks over Crete has also left its traces here in Heraklio. The Loggia, the Fortress of Koule, the Moslem Temples, as well as numerous castles throughout the area, prove the existence of Turks and Venetians on the island.
There has been a settlement in Heraklio since Neolithic times. Although few remains have been found in the city, it was probably a port for Knossos during Minoan and Roman times.